Paint thickness gauges are an important tool in automotive paint inspection. Our FN Pro, FN Plus, FN Evo, FN CM, and 156 USB paint thickness gauges are suitable for this purpose and are used by vehicle manufacturers, car dealers, bodyshops, appraisers, car buyers, and at auctions.
Why use a paint thickness gauge for paint inspection?
A paint thickness gauge is able to non-destructively measure the thickness of the coating on the metal panels of a vehicle. This allows the paint thickness on a vehicle to be rapidly and easily assessed.
For vehicle manufacturers and bodyshops this can be an important quality control assessment. An overly thick layer of paint can indicate wastage of expensive materials while an overly thin layer could be insufficient for long-term sustainable substrate protection.
This is an important quality control assessment to ensure cost management and output adequacy and consistency, that will support customer satisfaction and reputation management.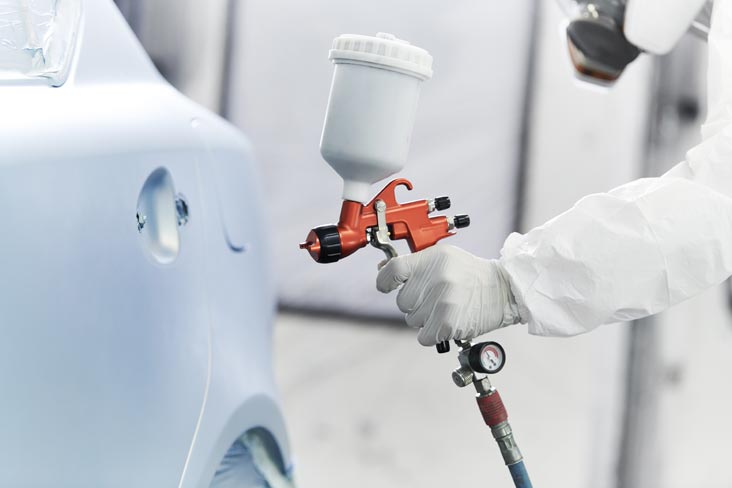 Car dealers and buyers inspect vehicles' bodywork to identify coating thicknesses on different areas (paint and body filler). Even with a high quality repair that may be difficult to detect with the naked eye, this can provide a scientific indication of areas with higher or lower levels of coating thickness over a vehicle's panels. Consequently, electronic coating thickness gauges can be used to assess areas of potential accident repair or previous abrasive polishing that has been carried out on a vehicle.
This allows fast identification of any potential risk areas on a vehicle which might impact its condition and valuation. In this respect it can not only mitigate risk in the purchasing process but also support reputation management in avoiding passing on a vehicle with unknown and undisclosed repairs.
Car auctions are fast moving processes with numerous lots that require quick decision making, often with relatively limited information. Sometimes lighting can be poor or vehicles can be dirty, meaning identification of accident repairs is made more difficult. Alternatively, a suspicion of a repair can be supported by the readings provided by a coating thickness gauge. In this environment a paint thickness gauge can help to assess a vehicle's condition, mitigating risk and allowing buyers to focus on vehicles of interest while supporting valuation assessment.
What will a paint thickness gauge indicate?
A paint thickness gauge, more precisely a coating thickness gauge, will indicate the thickness of the coating over a vehicle's metal panels (all of our models work on both steel and aluminium car bodies – but this is not the case with many competitors' models). In this respect, a gauge will measure the total thickness of any paint, lacquer, and (if present) body filler on a vehicle's panel.
The user can use the coating thickness gauge to inspect a vehicle in different areas and in different areas of each panel to build up a picture of information that is invisible to the naked eye.
---